Odessa Spire next to Pinkie's Liquor Store on Maple Ave. – Ben Powell/Odessa American via AP
About Us
Serving West Texas since 1934.
Tom "Pinkie" Roden established Pinkie's back in 1934, less than one year after the 21st Amendment to the Constitution was ratified (by an extraordinary 73%), ending 14 years of prohibition.
Carrying on the work that Pinkie started back in 1934, we have grown into a chain of sixteen wine and spirits retail stores with locations throughout West Texas.  Employing more than 145 people in our stores in Abilene, Amarillo, Lubbock, Midland, Odessa, San Angelo, and Sweetwater; our goal is to offer our customers quality name brands, reasonable prices and unparalleled customer service.
Storms Rage in "The Dust Bowl"
In May a three-day dust storm blows an estimated 350 million tons of soil off of the terrain of the West and Southwest and deposits it as far east as New York and Boston. Some East Coast cities were forced to ignite street lamps during the day to see through the blowing dust.
The drought came in three waves, 1934, 1936, and 1939–1940, but some regions of the High Plains experienced drought conditions for as many as eight years.
Bonnie & Clyde Gunned Down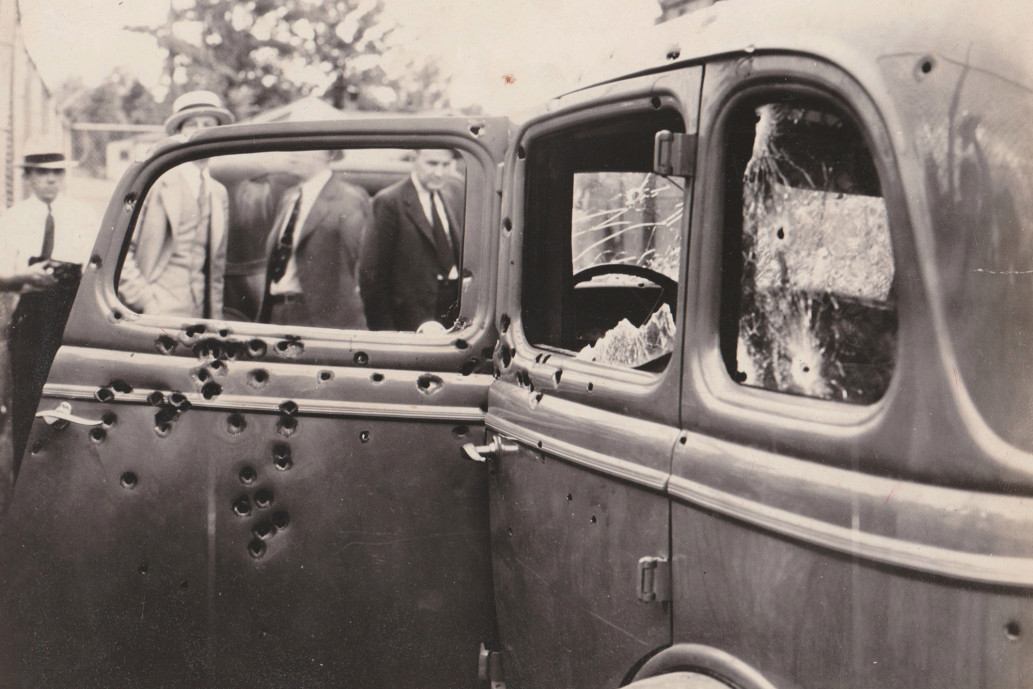 Bonny and Clydes car (1932 Ford V-8), riddled with bullet holes after the ambush. Picture taken by FBI investigators on May 23, 1934. Author Unknown – NYPOST
Near their hide-out in Black Lake, Louisiana, FBI men ambush bank robbers Bonnie Parker and Clyde Barrow and fire, killing them.
Bad Year for Outlaws:
Notorious outlaws John Dillinger, "Pretty Boy" Floyd, and Lester J. Gillis (AKA "Baby Face Nelson") are all gunned down…
Laurel & Hardy's "Babes In Toyland"
Publicity still from the Laurel and Hardy film "Babes in Toyland" (1934), later reissued under the title "March of the Wooden Soldiers". Unknown author – Found in thrift store in Los Angeles. Publicity still from film that is now in public domain. Original nitrate film negative has almost certainly disintegrated by now. – Public Domain
The classic Laurel & Hardy film was released on November 30th, 1934. It has since been re-named at least five times, with other titles such as Laurel & Hardy in Toyland, Toyland, March of the Toys and Revenge is Sweet. Today, it is most commonly known as March of the Wooden Soldiers.